Since I'm not cooking for more than three people the vast majority of the time I prefer the smaller grill experience. My current setup is a tabletop gas grill similar to
this
. I simply have the grill on top of a table with the propane cyliner underneath.
While this works well, I'd like a tabletop charcoal option as well. While choices aren't limited for small charcoal grills, they really are limited to foldable picnic varieties with minimal heated surface. For example most people are familiar with the classic Weber "Smokey Joe" grill. It's the tabletop, parking lot, campsite portable grill benchmark. One of the best steaks I ever had was cooked on top of ol' Smokey. It's typically good for just two or three burgers with a few hot dogs intermittently spaced.
Enter "Big Joe"
. While not as big as me, this has bit bigger of a grilling area so all the kabobs and corn and potatoes and jalapeno poppers can be better fit in. Still BJ is highly portable and meant for the end of the picnic table.
Compared to the original's 14" diameter surface, Big Joe has an 18" surface. That may not seem like much, but if you calculate the area the Big guy has 65% more places to put your meat, veggies or have different heat zones. Indeed, this is a step in the right direction for portable grilling.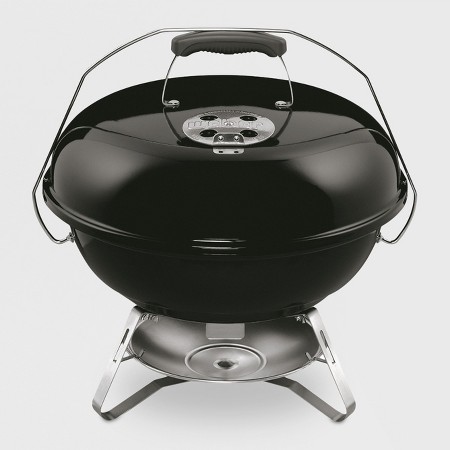 You can get the Weber Big Joe at Target. It's a lot of grill for on top of your table.